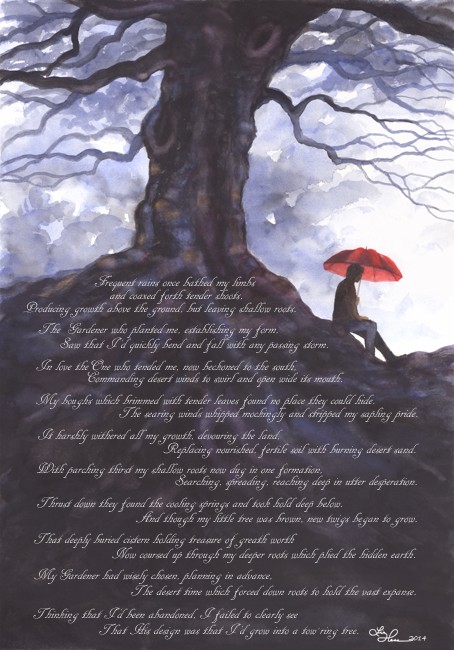 The Tree
(Dedicated to B. Stoner)
Original Verse, Art, and Script by Liz:
Frequent rains once bathed my limbs and coaxed forth tender shoots,
Producing growth above the ground, but leaving shallow roots.
The Gardener who planted me, establishing my form,
Saw that I'd quickly bend and fall with any passing storm.
In love the One who tended me now beckoned to the south,
Commanding desert winds to swirl and open wide its mouth.
My boughs which brimmed with tender leaves found no place they could hide.
The searing winds whipped mockingly and stripped my sapling pride.
It harshly withered all my growth, devouring the land,
Replacing nourished, fertile soil with burning desert sand.
With parching thirst my shallow roots now dug in one formation,
Searching, spreading, reaching deep in utter desperation.
Thrust down they found the cooling springs and took hold deep below.
And though my little tree was brown, new twigs began to grow.
That deeply buried cistern holding treasure of great worth
Now coursed up through my deeper roots which plied the hidden earth.
My Gardener had wisely chosen, planning in advance,
The desert time which forced down roots to hold the vast expanse.
Thinking that I'd been abandoned, I failed to clearly see
That His design was that I'd grow into a tow'ring tree.
21″ x 28″ Framed Watercolor Original: $1,500  SOLD

14.5″ x 20.75″ Archival, Giclee Print on Paper: $75

5″ x 7″ Archival, Giclee Note Card (blank inside) w/envelope: $5.50