About Liz Hess
A full-time artist, Liz Hess is the fourth child of missionaries to Honduras, Central America, where she was born in 1965.
Returning home with her family in the early 1970s, she grew up in Lancaster, Pennsylvania, where even as a young girl,
Liz was known for her artistic ability, collecting awards for her work throughout her childhood and teenage years.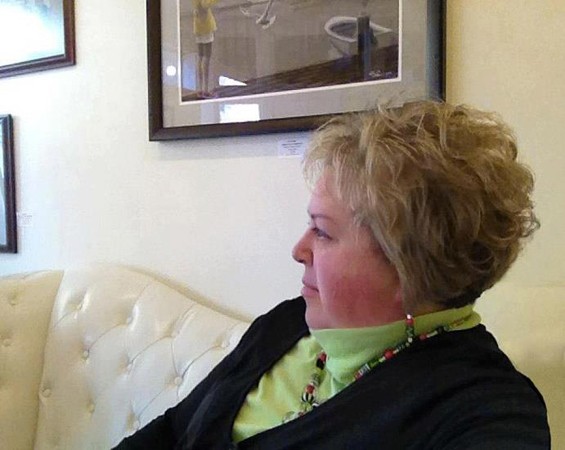 Once a year Liz travels abroad to spend several weeks painting on location. Trying to capture on canvas such
beautiful subjects as the old world charm of Tuscany, the canals of Venice, the lavender fields of Provence,
or the brooding sea and landscapes of Ireland, has proven to be invaluable in stretching Liz's artistic imagination.
Many artists pursue adult education classes or other such helps as a means to keep the inspiration fresh
throughout their careers. But Liz finds that annual trips abroad have served as the catalyst needed to stretch her
artistic horizons, pushing her forward into the exploration of new techniques and color palettes appropriate for the
subject matter of those settings.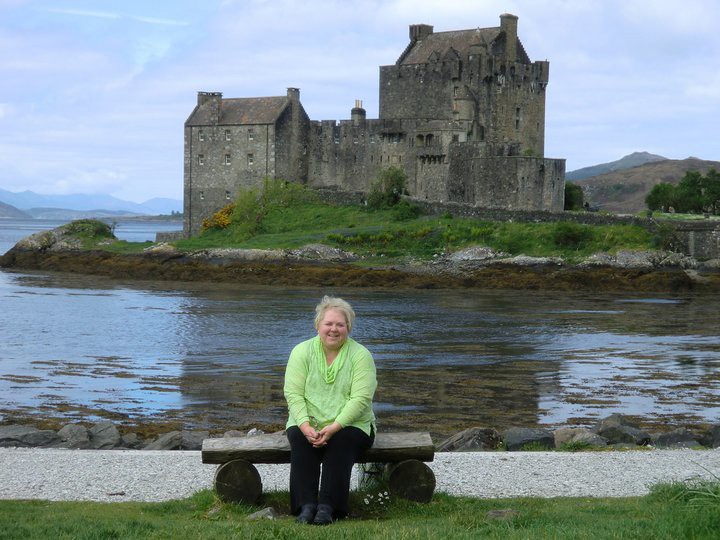 (Liz in front of Scotland's most famous castle, Eilean Donan, close to the Isle of Skye.)
One of her most popular collections is the Red Umbrella series which was first created during one of those trips.
Following the solitary figure with the red umbrella, Liz takes the viewer on a journey to many of the beautiful locales
she has visited. The collection continues to grow as she continues to travel.
Liz's cat and dog have been an influence behind another popular series. Departing from her typical style of more
representational art, she ventures into the crazy world of illustrated felines and canines. Her "All about Cats & Dogs"
collection highlights the episodes of life as can only be told by a group of colorfully eclectic creatures.
Art was not always what called Liz. From the ages of 23 to 31, Liz made her home 10 miles above the Arctic Circle
in a village in northern Sweden's Lapland where she served on a mission team, working with a local Swedish congregation.
She speaks, reads, and writes Swedish fluently, and travels there periodically for visits since her return to the States.
The artist she idolizes most is the Master Painter Himself, who has filled this Earth with form, color, and pattern
too beautiful for any human being to recreate. It is this Artist, God the Creator, who has made all the difference in her life.
Liz sells her works through her gallery and on her on-line gallery in the heart of downtown Lancaster's art district on Gallery Row.