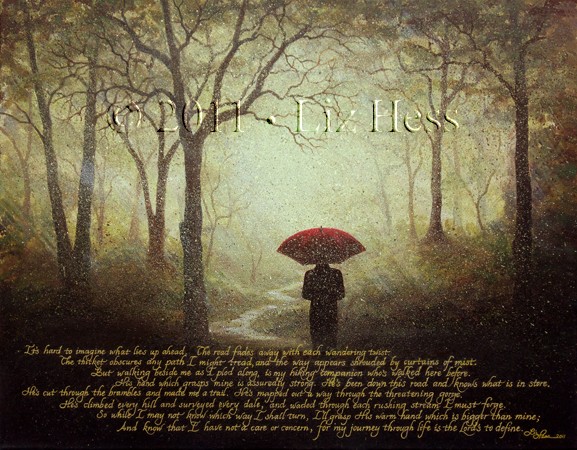 The Journey Ahead
Original Verse, Art, and Script by Liz:
It's hard to imagine what lies up ahead.
The road fades away with each wandering twist.
The thicket obscures any path I might tread,
And the way appears shrouded by curtains of mist.
But walking beside me as I plod along
Is my hiking companion who's walked here before.
His hand which grasps mine is assuredly strong.
He's been down this road and knows what is in store.
He's cut through the brambles and made me a trail.
He's mapped out a way through the threatening gorge.
He's climbed every hill and surveyed every dale,
And waded through each rushing stream I must forge.
So while I may not know which way I shall turn,
I'll grasp His warm hand which is bigger than mine,
And know that I have not a care or concern;
For my journey through life is the Lord's to define.
26″ x 32″ Framed, Acrylic Original on Canvas: $2,800  SOLD
16″ x 20″ Archival, Giclee Print on Canvas, stretched and ready-to-hang: $300   On Paper: $75
(Note: Please allow up to two weeks for canvas delivery as each one is varnished and stretched upon order.)
5″ x 7″ Archival, Giclee Note Card (blank inside) w/envelope: $5.50