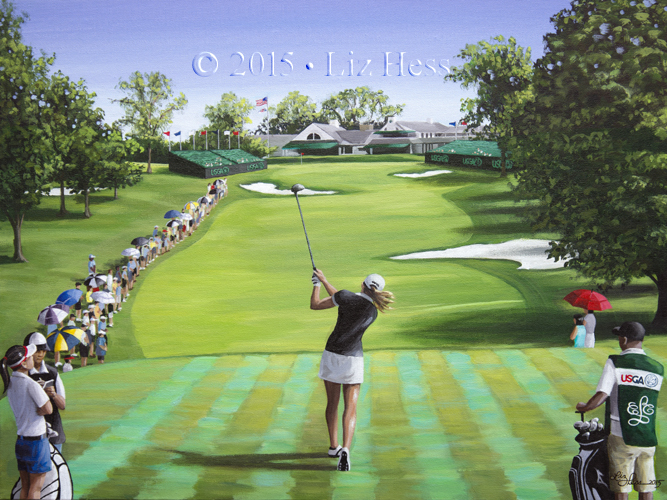 Practice Round at the 2015 Women's Open
23″ x 29″ Framed Acrylic Original on Canvas: $5,000  SOLD
Commissioned by the Lancaster Country Club for the 2015 Women's Open Golf Championship which was held in July, it was decided that the scene should be of a practice day where there would still be spectators, but not the sea of people which would overtake the course during the competition.
After all, where would one stop as an artist? Along with the throngs of people which would cover the ground and eliminate most of the green now visible in the painting, would one also need to incorporate the TV crews and merchandising tents which will be set up in order to portray the scene accurately? This way the beautiful grounds and clubhouse are visible, yet stands and spectators are also present, identifying this as definitely part of the tournament.
The Women's Open also picked up on Liz's work and called her to invite her to be the featured artist for the event.  Liz was in the USGA merchandising tent selling and signing prints during the tournament.
18″ x 24″ Archival, Limited Edition Giclee Print on Canvas, rolled in tube for shipping: $425
18″ x 24″ Archival, Limited Edition Giclee Print on Canvas, stretched and ready-to-hang: $475
(Note: Please allow up to two weeks for canvas delivery as each one is printed and varnished upon order.)

18″ x 24″ Archival, Giclee Print on Paper with USGA logo: $115

11″ x 14″ Archival Giclee Print with USGA logo: $45
5″ x 7″ Archival, Giclee Note Card (blank inside) w/envelope: $5.50