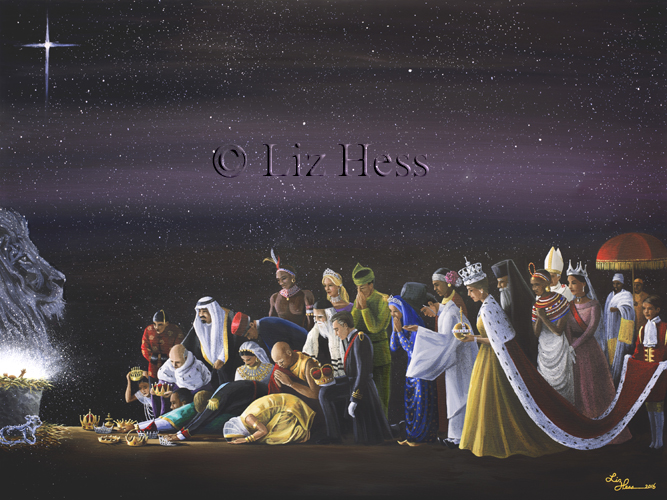 King of Kings
33″ x 43″ Framed Acrylic Original  $15,000  SOLD
100% of the sale of this original has gone to Global Disciples,
a worldwide ministry with headquarters in Lancaster, PA.
To learn more about their work, visit their website: globaldisciples.org
30% of the sale of the following canvas print will go to Global Disciples.
30″ x 40″ (same size as original) Archival, Limited Edition (100) Giclee Print on Canvas, rolled in tube for shipping: $825
(Note: Please allow up to three weeks for canvas delivery as each one is printed and varnished upon order.)
Also available stretched and ready-to-hang (for pick up only) at Gallery: $1,000.  To purchase this option, please call the Gallery.
50% of the sale of the following prints and note cards will go to Global Disciples.
In addition to the sizes listed below, there are other sizes available, including custom sizes if you wish.
For those, please contact the Gallery.
18 x 24″ Archival Giclee Print on Paper: $115
(Note: during check-out, this is labeled as "poster".)
16″ x 20″ Archival Giclee Print on Paper: $83
11″ x 14″ Archival Giclee Print on Paper: $55

8″ x 10″ Archival Giclee Print on Paper: $38
5″ x 7″ Archival, Giclee Note Card (blank inside) w/envelope: $5.50

12″ x 16.5″ Puzzle with 285 pieces: $29
18″ x 24″ Puzzle with 500 pieces: $49
18″ x 24″ Puzzle with 70 pieces: $49
(Extra large pieces which are perfect for children or the elderly)
19.75″ x 28″ Puzzle with 1000 pieces: $55
(Please call Gallery to order puzzle)
SCROLL DOWN BELOW STORY FOR CHECK-OUT.

"After the release of the image and article in Lancaster Newspapers on December 3, 2016, thousands of people descended upon my gallery and contacted me through my website.  The positive reaction and interest in the piece was unprecedented.  I have never experienced the masses clamoring for one of my works as in this particular panting.  It has taken me and my gallery team by complete surprise.  I assumed that most Christians would appreciate it, but it was not even on my radar that so many people from all walks of life would be interested in this piece.  I have been shipping orders all over the US, Canada, Europe, and Asia.
My preconceived notions as an artist were that religious, and especially Christian, images are not particularly well received. I have slipped a few paintings which portray my faith into the large mix of other art at my gallery, but it's not something I emphasize in my space.
So the one time I actually let it all out, loudly and overtly, throwing all caution to the wind and allowing the Holy Spirit to guide the creation of a painting, the masses descend upon my gallery, almost stumbling over each other to purchase a card or print of it. This is by far my top selling image of all time, which in three weeks beat out all other popular images that I had been selling for years.  It was a bit baffling, and I can only attribute it to the lure of the King of Kings, Himself.
I can attest to customers (about every other one who came up to me at the desk to purchase) having watery eyes because they were moved by the image.  Scores of messages came into my website or on Facebook telling me the same thing, that they were moved to tears when they saw the image.
During its creation, I worshiped continually as I painted it, and as I worshiped, the figures in the painting emerged worshiping.  And the image just seemed to flow out of my brushes and form itself on the canvas.  I could feel that it was not me, alone, creating this.  Just as I picked up a brush and began painting, I could feel that I was simply a brush in the Master Artist's hand.  I cannot possibly take credit for it, just as one of my brushes cannot take the credit when they are held in my hand.
I formed an intimate attachment to the painting and thought at first that I would keep it for myself.  But it was given to me, and I must give it away.
So it was with great satisfaction that I could relinquish it to the highest bidder at their generous price, and know that it would benefit such a worthy charity/cause."  -Liz Hess
(The painting sold for $15,000 and the entire sum went to Global Disciples Ministries.)
This story has also been broadcast on 1,100 radio stations in 31 countries around the globe.  To read the interview on Mission Network News (MNN), click here.