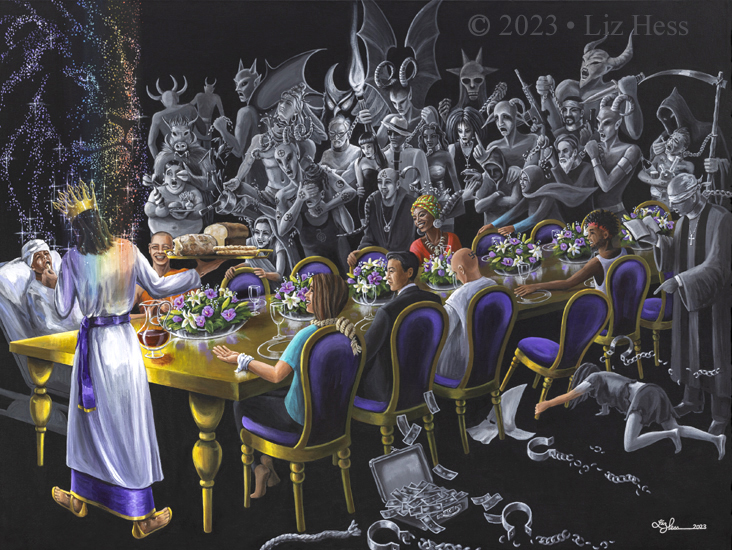 The King's Invitation
36″ x 48″ Acrylic Original on Canvas  Not for Sale
(Scroll down below the explanation for available products of this image.)
Artist's statement about this piece:
"I saw a vision–like a spiritual download appear in front of me.
The picture was so strong and clear that I wrote everything down as it appeared
so I wouldn't forget.
I saw a royal table with The King serving at the head of the table.  He was not
dressed as a servant, but as The King. All are invited no matter who they are,
what they have done, or what they believe…but the choice is up to them.
Holding many back are the demonic forces which have enslaved them through bondages.
This glimpse into the supernatural realm depicts how all are alive, but they are unaware
that they're only living life in black and white. True life and color enter only when
they choose The King. But He is a gentleman and never forces, hence the invitation from
Him, leaving the choice up to all to accept His invitation.
Moving around the table, counter clock-wise beginning at the front, the woman sitting
next to Jesus was suicidal but has just been set free and her broken neck bonds,
chains, and rope are lying on the floor behind her.
The business man sitting next to her was in bondage to wealth and making money,
hence the open and spilled briefcase filled with money behind him, in addition to the
broken neck bond and chain.
Sitting next to him is a white man who was in bondage to racism. Now that he has been
set free and his eyes opened, his head is bowed in shame at the lies he used to believe.
Crawling on the floor is a beaten, battered, and trafficked woman who is just making the
choice to accept The King's Invitation and join Him at the table. As she grasps the
chair leg, color is emerging into her arm and her neck bond is snapping off.
Standing above her is a cleric, and though he has God's Word, and is full of theology and
truth, he is blinded and condemns her because of his own self-righteousness.
The black man at the table in front of the cleric was racist in his own right, but now that
he has been set free, he is reaching out to the former white racist next to him.
Across the table a man is succumbing to the Grim Reaper who is trying to hinder him from
making it to the table by taking him out through substance abuse of all kinds.
Next to them a demon is holding a Muslim man in chains who in turn is holding a woman in
chains. But she has just made the choice to take a seat at the table and is being set free–
her chains popping off while color, life, and joy enter her for the first time.
Behind them a man filled with anger, hate, and violence (holding a semi-automatic in one hand
and a pistol in the other) is held in bondage by the rage-filled demon who is controlling him.
Next to them a demon with drooping horns and ears is holding an "L" (representing loser)
over the man he has held fast with a lifetime of lies, telling him he is worthless, will never
amount to anything, while cursing him with a heavy cloak of depression.
Next to them is a Goth woman held fast by a skeletal demon, representing death.
Next to them a demon with a burning torch holds a pimp in chains, while the pimp's two
women are chained to him. The burning torch represents the unnatural burning that occurs
with sexual addictions. Sexuality, in and of itself, is a beautiful thing that God has created, but
when it is hijacked by the demonic realm, it is turned into something ugly, unnatural, and full
of bondage, accompanied by an insatiable burning that cannot be turned off because of the
demonic control over the unknowing individual(s).
In front of them is a Satanist who is just being set free as he places his hand on the chair and
uses his other to push off the snake which was wrapped around him.
In front of him a female shaman/voodoo/witch doctor sits at the table, full of joy because of
her recent release from the dark bondage of magic arts.
Standing next to the pimp, an older man with glasses is looking upon the whole scene with
disdain. He is highly educated and wise in his own eyes, hence the demonic, wise, old owl
holding him in chains.
Standing next to, and in front of him is a demon with twisted horns who is covered with tattoos
of world religious symbols.  The demon's twisted horns represent that he leads everywhere and
nowhere at all. Out of the woman's hand a music bowl and mallet are falling and bats are
emerging from it. The peace, tranquility, and centering she has pursed are not fulfilling her
because she has sought it in all the wrong places.  Blinding and choking his victim, he wants to
keep her from the Prince of Peace who is inviting her to join Him at the table.
Next to them, an Indian woman is bowed low because she has been carrying one of Hinduism's
most important gods on her back, which has burdened and weighed her down her entire life.
She has finally accepted The King's Invitation and as she grasps the chair to take a seat at
the table, her chains are snapping off and the idol's neck is breaking as she is set free.
Directly across from Jesus, a Buddhist monk is now filled with joy as he looks gratefully at
the true source of peace who has just set him free.  He has finally found the meaning of life
he's been searching for.
Above him a glutton is being led forward in bondage by that next fork of food from the
demonic boar behind him. But his eyes are popping open as he sees the true food,
the bread of life that The King is holding for all to enjoy.
Behind him demons who have lost control of their victims are turning and fleeing.
The person in the hospital bed is completely helpless, and it is that person whom Jesus
has chosen to hand feed.
A lion of stars rises above Jesus because He is of the royal, ancient tribe of Judah
(as described in the Bible).
The pitcher of wine on the table is present because Jesus is described as the True Vine,
while the flowers on the table are also descriptions that the Bible paints of Him as
the Rose of Sharon and the Lily of the Valley.
In all of the bondages represented, so much of it is innocent until it takes over and
becomes our god. There's nothing wrong with food, wine, education, making money, and sex
(within God's perimeters), but it's when any of these things begin to control us.
The King is the only one who can set us free, but He is a gentleman and though He extends
an invitation to us all, He will never force us. He is all about setting free and keeping us free,
and allowing us to maintain our free will to do so, even if it means we reject Him.
If you love this painting, do not give me any credit, I simply painted what I saw.
If you hate it, don't blame me. I only held the brush."
-Artist Liz Hess
36″ x 48″ (same size as original) Archival Giclee Print on Canvas, rolled in tube for shipping: $775
(Note: Please allow up to three weeks for canvas delivery as each one is printed and varnished upon order.)
Also available stretched and ready-to-hang (for pick up only) at Gallery: $1,000.
To purchase this option, please call the Gallery.
In addition to the sizes listed below, there are other sizes available, including custom sizes if you wish.
For those, please contact the Gallery.
36 x 48″ (same size as original) Archival Giclee Print on Paper: $375
(Note: during check-out, this is labeled as "poster".)
18 x 24″ Archival Giclee Print on Paper: $145
16″ x 20″ Archival Giclee Print on Paper: $83
11″ x 14″ Archival Giclee Print on Paper: $55
5″ x 7″ Archival, Giclee Note Card (blank inside) w/envelope: $5.50