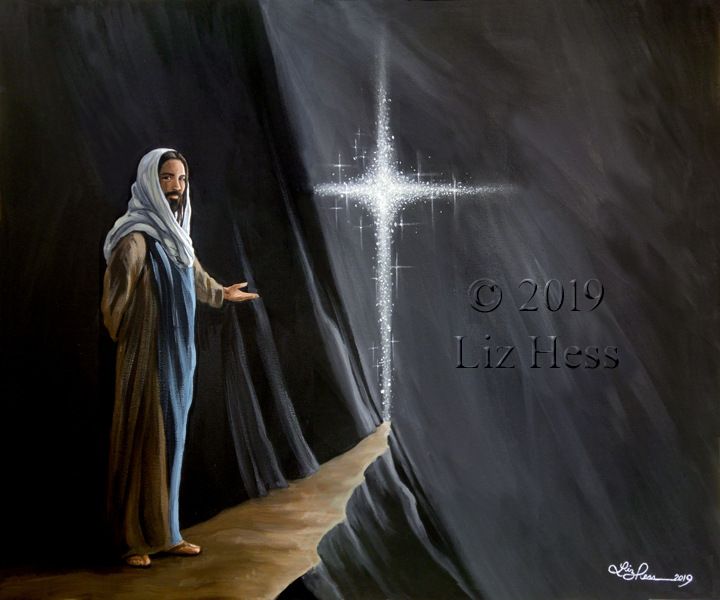 The Way, The Truth, & The Life
20″ x 24″ Acrylic Original on Canvas
NOT FOR SALE
"Jesus, the bright, Morning Star, beckons us to follow Him.
To the undiscerning eye, the way appears narrow, steep, and frightening.  Many choose not to take their first step onto that path.
Little do they realize what those who have dared to follow Him have discovered; that thought it may not be the most popular route, it is the ONLY way to life and the Father.  And though the path is indeed, often precarious, Jesus has mapped it out ahead of time, trekking with us the entire way to guarantee our safety.  The higher we climb, the broader our perspective, and the more breathtaking the view.
When we remain on the easy plain, it's really not that exciting.  But once we begin to gain hinds' feet on the high places, the journey becomes incredibly thrilling!"
-Liz
20″ x 24″ Archival, Limited Edition (250) Giclee Print on Canvas, rolled in tube for shipping: $350
(Note: Please allow up to three weeks for canvas delivery as each one is printed and varnished upon order.)
Also available stretched and ready-to-hang (for pick up only) at Gallery: $425.  To purchase this option, please call the Gallery.
20″ x 24″ Archival, Giclee Print on Paper: $145

16″ x 20" Archival, Giclee Print on Paper: $75
11″ x 14″ Archival, Giclee Print on Paper: $49

5″ x 7″ Archival, Giclee Note Card (blank inside) w/envelope: $5.50